Shipping containers are a must for logistics. However, sometimes they can be too expensive, especially for a recently-opened company or an individual customer. The best way to decrease expenses is to buy used shipping containers. However, with a spike in the trend of container homes, pop-up shops, and innovative storage solutions, finding a quality used shipping container has become an art form. It requires a dash of knowledge, a sprinkle of patience, and a touch of expertise.
Why Buy Used Shipping Containers
The benefit of used shipping containers goes over savings. They've swiftly emerged as the answer to many contemporary challenges, with benefits that cater to a range of needs and creative endeavors. Here's why you should invest in a used shipping container:
1.Sustainability and environmental benefits:
Recycling at its best. You can prevent these giant metal boxes from ending up in landfills or being melted down, thereby reducing the carbon footprint.
Eco-friendly projects. Examples include sustainable off-grid homes, rooftop gardens, and greenhouses. It's even possible to turn a used shipping container into a self-sufficient living space powered by solar panels
2. Durability and robustness:
Designed for the high seas. These containers are built to withstand saltwater, storms, and weight. This inherent resilience translates into many years on land.
Metal marvel. Made predominantly from corten steel, they resist corrosion. An example would be the enchanting container pools seen in many modern homes — they show the material's hardness against water and constant use.
3. Versatility and modularity:
Endless possibilities. The transformation potential of used shipping containers is limitless, as they can be exploited for spaces where you can create anything from cafes to contemporary art studios.
Expand at will. Their modular nature means you can easily add more containers as you expand. For example, businesses might start with a single container as a storefront and later expand by adding more, creating a multi-level or expanded space.
4. Economic sense:
Budget-friendly. When compared to traditional building materials, a used container often comes out as a more affordable option.
Decreased labor costs. Some projects require less labor due to the prefabricated nature of containers. A remarkable example is the rise of pop-up shop places in city centers. Entrepreneurs have harnessed the affordability and rapid deployment of containers to set up businesses quickly and at a fraction of traditionally high setup costs.
5. Innovative living and working spaces:
Minimalist living: Many have embraced the tiny home movement by converting containers into compact, yet comfortable homes.
Work-from-home solutions: As the world leans more towards remote work, a backyard container office offers a fantastic separation between living and working spaces. A notable example is the increasing number of freelancers converting containers into soundproofed studios or distraction-free workspaces.
Buying a used shipping container is an investment in a sustainable, durable, and versatile future. Whether you're a budding entrepreneur, an environmental enthusiast, or someone looking to break the mold of traditional living and working spaces, these containers beckon with a promise of endless potential.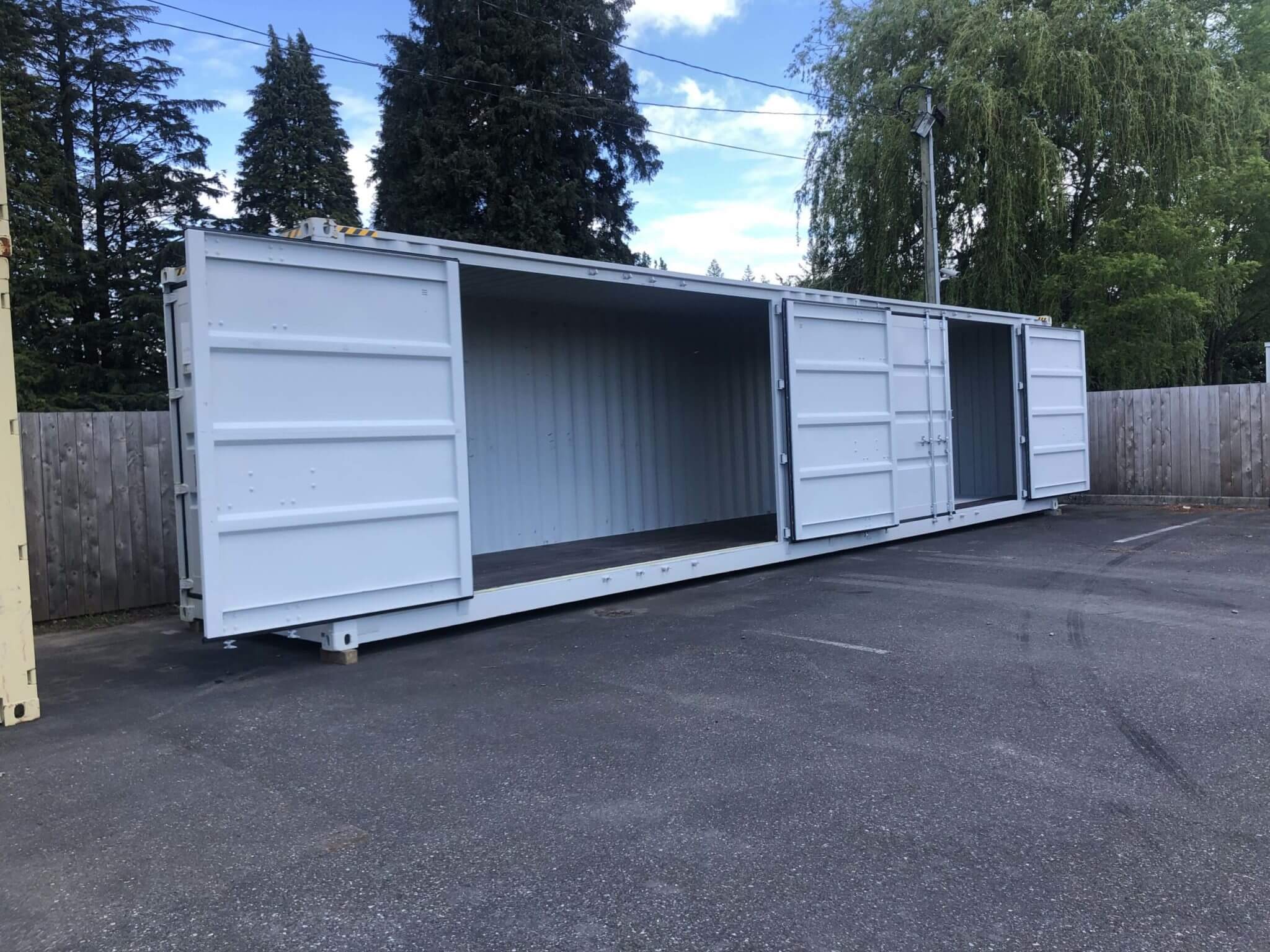 The Best Prices on Used Shipping Containers
Purchasing used shipping containers doesn't mean you should pay top dollar. It's about finding that perfect blend of quality and value. Here's how you can do it:
Research. Before purchasing a used container, explore the internet. Understand the average market prices in your region.
Network. Sometimes, the best deals come from word of mouth. Join local forums or groups on Facebook that revolve around shipping container projects.
Local or online. While online platforms offer convenience, local sellers may offer a chance to inspect the container firsthand, allowing you to assess the quality.
What's more, it's better to pick companies that have the greatest number of positive reviews from real clients. However, don't trust any testimonials you see. Study them carefully to understand if they are really written by clients, not company representatives who want to increase their sales.
Certified Conditions for Used Shipping Containers on the Open Market
When trawling the market, you'll come across a few certifications that will help you gauge the condition of the container.
One Trip (1T). These containers are almost new, having been used for just one shipping trip.
Cargo Worthy (CW). These containers are deemed fit for international shipping.
Wind and Watertight (WWT). Though they might not be suitable for shipping, they're excellent for storage as they don't let in wind or water.
As Is. Buyer beware! These containers might have visible damage or wear.
The importance of these conditions also makes the choice of seller crucial when buying used shipping containers. If a company isn't reliable enough, there is a risk that they provide false information about their products.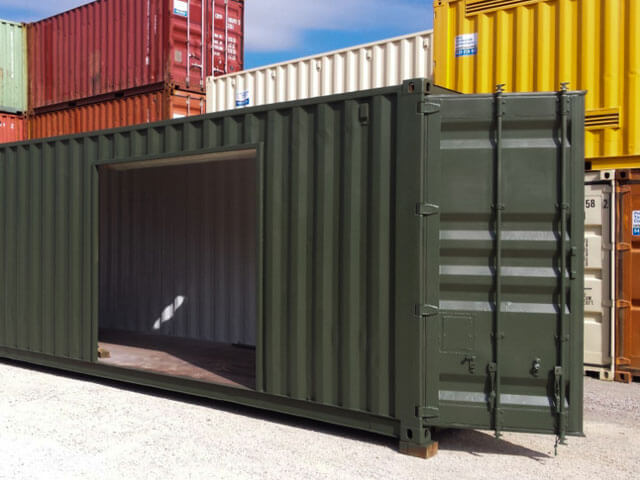 How Do You Buy a Used Shipping Container
To buy a high-quality used container, follow this algorithm:
Determine your needs. Before you start searching for used containers, list down the specifics. What size do you need? What's your budget?
Choose a reputable seller. Check reviews, ask for recommendations, and do your due diligence.
Inspect the container. Whether in person or via photos, ensure there's no excessive rust, dents, or other damage.
Understand the delivery costs. Sometimes, the delivery can cost as much as the container itself. Get a clear estimate upfront.
Negotiate. Everything is negotiable. Remember, it's not just about price, but also delivery time, quality, and after-sales service.
Just as an art expert would meticulously inspect a potential masterpiece, so should you when hunting for the ideal shipping container. With knowledge and patience, you'll not only find a used shipping container fit for your purpose, but also one that offers value for your money.
FAQ
What are some tips for identifying the quality and condition of used shipping containers?
To ensure a shipping container is of high quality, consider these tips:
Visual inspection. Look for dents, rust, and any patches. While some wear is normal, extensive rust or deformities can be a sign of neglect or serious damage.
Check for rust. Surface rust is typical, but deep-seated rust or rot can compromise the container's integrity. Look at the corners, the bottom, and the door area, as these are common spots for rust to accumulate.
Container age and history. A younger container with a clear record may have fewer issues.
Look for identification numbers. Containers come with a CSC (Container Safety Convention) plate that holds details like manufacture date, weight limits, and other significant details. This can provide valuable information about the container's age and specifications.
These tips will help you stay confident when assessing the quality and condition of a used shipping container. Remember thorough search and a meticulous inspection can save you from potential headaches down the road.
How can you determine the appropriate size and type of shipping container for your specific needs?
First, consider the end-use. For example, home might need a 40ft container, while a pop-up cafe might do with 20ft. Measure the space where you'll place it. Think about modifications or additions you might want in the future.
What are some common mistakes to avoid when buying used shipping containers?
These are the main mistakes one makes while selecting a container:
Ignoring local regulations. Always check with local authorities about zoning laws and regulations regarding the placement and use of shipping containers beforehand. Some areas may have restrictions you hadn't considered.
Overlooking size and type. Containers come in various sizes and types. Not determining your exact needs can lead you to buy one that's too big or too small. Whether you need a 20-foot, 40-foot, refrigerated, or an open-top container, always match the type to your intended use.
Not verifying the seller's reputation. Not all sellers are created equal. Always read reviews, ask for references, and verify the authenticity of the dealer. Purchasing from a disreputable source can lead to unforeseen challenges.
Being unaware of previous contents. Some containers might have been used to transport hazardous or toxic materials. Not inquiring about a container's cargo history can expose you to harmful residues.
Neglecting Transportation Costs: A container might be priced attractively, but if it's located hundreds of miles away, transportation can significantly inflate costs. Always factor in the delivery price or relocation costs when budgeting.
Settling too quickly. Don't settle for the first deal that comes your way. Always shop around, compare prices, and negotiate. A hasty decision might mean you overpay or compromise on quality.
Being aware of these potential pitfalls, you can navigate the market with confidence and make an informed purchase.
What are some reputable sources for purchasing used shipping containers?
Look for the best offers at local shipping yards or companies, online platforms that specialize in container sale offers, and recommendations from those who've embarked on similar projects.
How can you negotiate the best price when buying used shipping containers?
To buy containers at the best price:
Be informed about the average prices.
Buy in bulk, if possible, for better rates.
Pick old containers (without compromising on quality) for better deals.
However, a used container is already a more cost-effective solution for any customer.