Benefits of Creating Workspace with a Shipping Container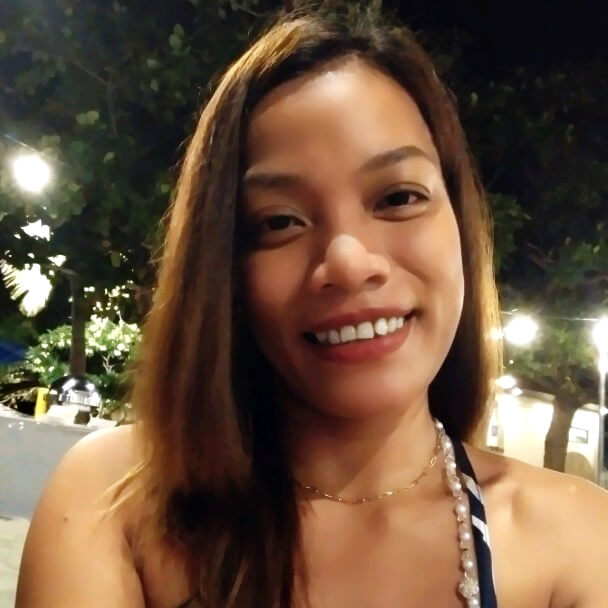 Vanessa Joy Eugenio
Do you want to open departments of your company in other cities? Do you need to quickly expand office space for your employees? Then consider choosing the most cost-effective, simple, and convenient way to achieve your goal. A shipping container workspace is a great way to create a comfortable working environment for a small company. In addition, modern modifications make the construction much faster and cheaper than building an office from scratch using standard materials. Today, you will learn about the main advantages of the new workspace solutions that use shipping containers.
Why Use a Shipping Container as a Workspace?
The use of a shipping container as a workspace is a strong tendency in today's world. These robust, easy-to-transport, and low-maintenance units were originally designed for sea transportation of cargo. But in the modern world, a number of alternative ways to use sea containers have emerged. This choice will help you save and optimize your construction budget. In addition, you will reap other benefits from making this choice.
Ease of Transportation
The mobility is one of the main benefits of using a shipping container as a workspace. If you buy small office containers to create a new mobile workspace for employees to work in, you can always change your mind about the location and move it to another place without damaging it. This choice makes it possible to create temporary locations for employees around the world. For example, if you need a provisional branch of the company in production or for other similar needs. As soon as it is no longer needed, you simply transport it on a truck or sell it!
Great Option For Private Office
If you need a private office to work with clients, you won't find a better solution than using a private workspace in a shipping container. Want to have an office near your home? No problem, just order the container and modifications from us, and we will ship it as soon as possible. This option will give you complete privacy for working with clients. Modifications and a huge selection of containers with different parameters will help to create a stunning and authentic interior and exterior for your workspace.
Capable of Fitting in a Limited Area
If you don't have much space to expand or create a workspace, a 20ft container is the best choice. The width of the container is 8 feet, which is enough to accommodate all the necessary work supplies and to be used for private work with clients.
Cost Efficiency of Use
How much can it cost you to build an office in a limited area from scratch? Regardless of your answer, when using a workspace made of shipping containers, you can save up to 50%. At the same time, you will receive a ready-made office many times faster, which will allow you to open your business without delay.
Modern and Authentic Shipping Container Workspaces
Do you still think that having an office in a shipping container is surreal? Many companies around the world practice this way of building new workplaces. It is not only the advantages listed above that are the reason for this. Among other things, modern technologies and the offered modifications, as well as design solutions, make it possible to make shipping containers into not only office space but also stunningly beautiful homes and even schools. Let's look at some amazing examples of workspace solutions for shipping container offices.
The Daiken-Met Office
Daiken-Met is an architecture company based in Japan. They designed their headquarters out of shipping containers. Even fairly large companies with great potential do not hesitate to use the advantages of shipping container workspace. This is not only cost-efficient but also environmentally friendly, since setting up green energy sources for such premises is much easier.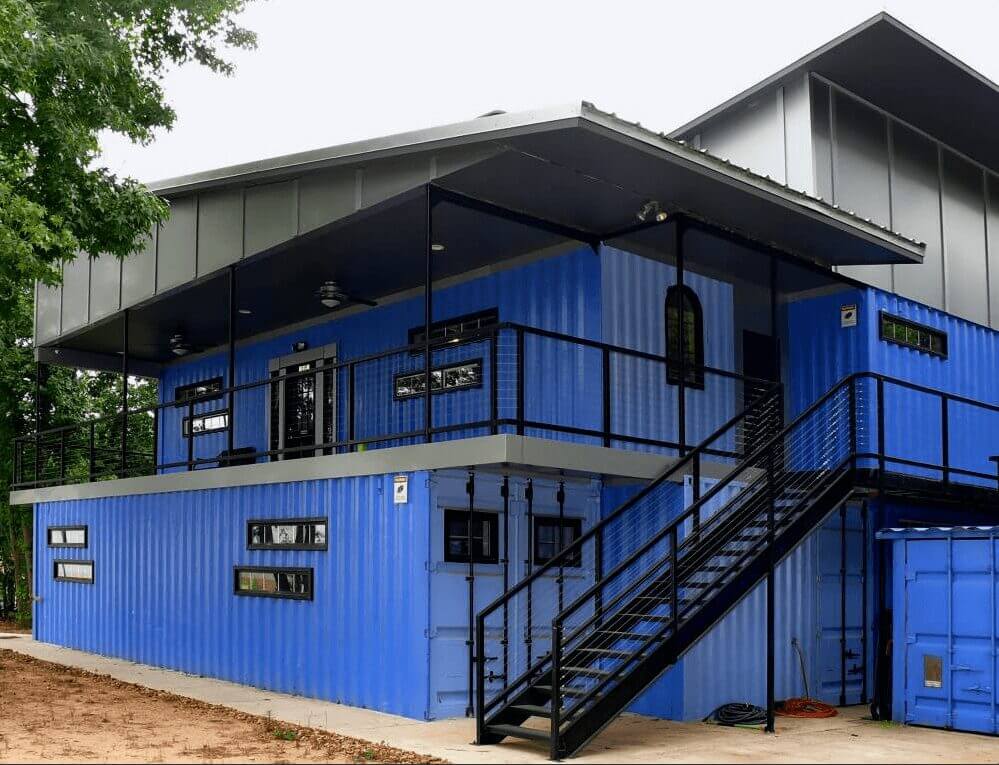 Hoonigan Racing Division Headquarters
Hoonigan is a racing team from Utah. Their main office looks like this. It consists of a combination of 19 containers, each of which has its place. The building is located in a 12,000-square-foot warehouse, which the team uses as both an office and a car garage.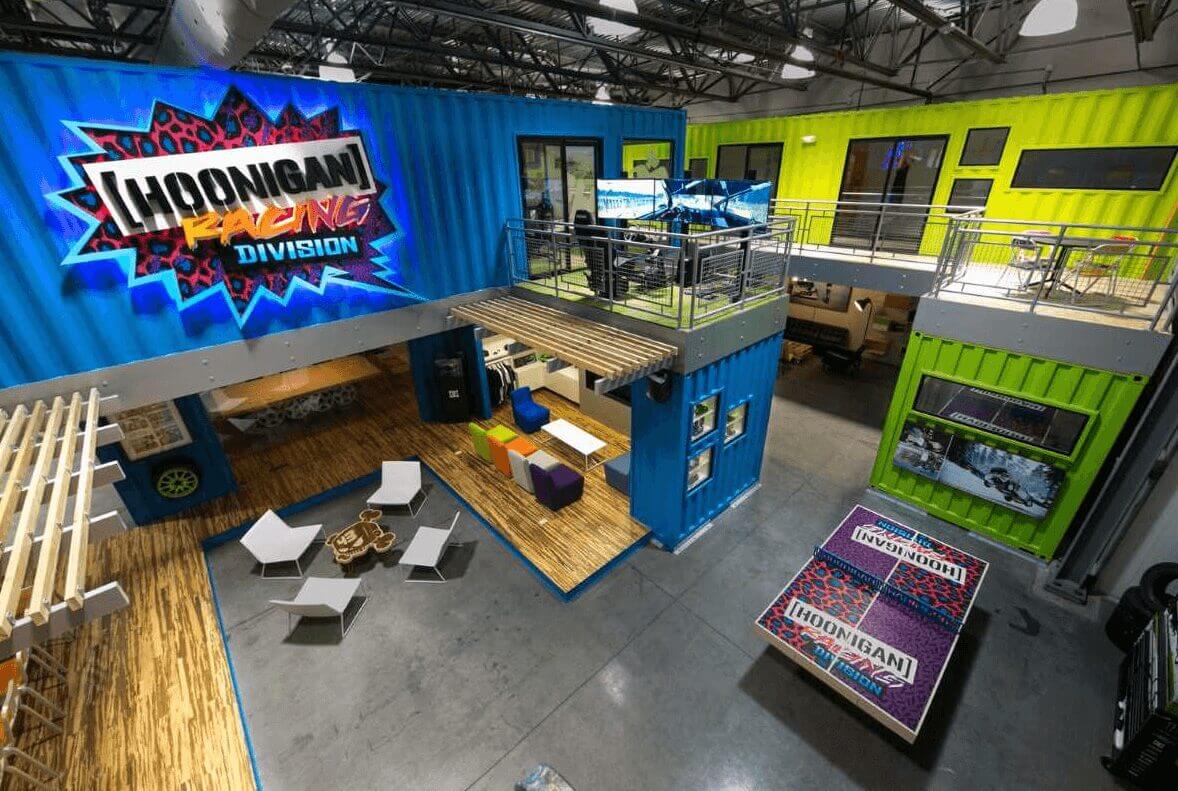 CBox Coworking
This coworking space allows you to enjoy all possible pros of shipping container workspaces. The picture shows the coworking space of a large Columbian company. This place where everyone can find a space for their small company consists entirely of shipping containers of different sizes and modifications.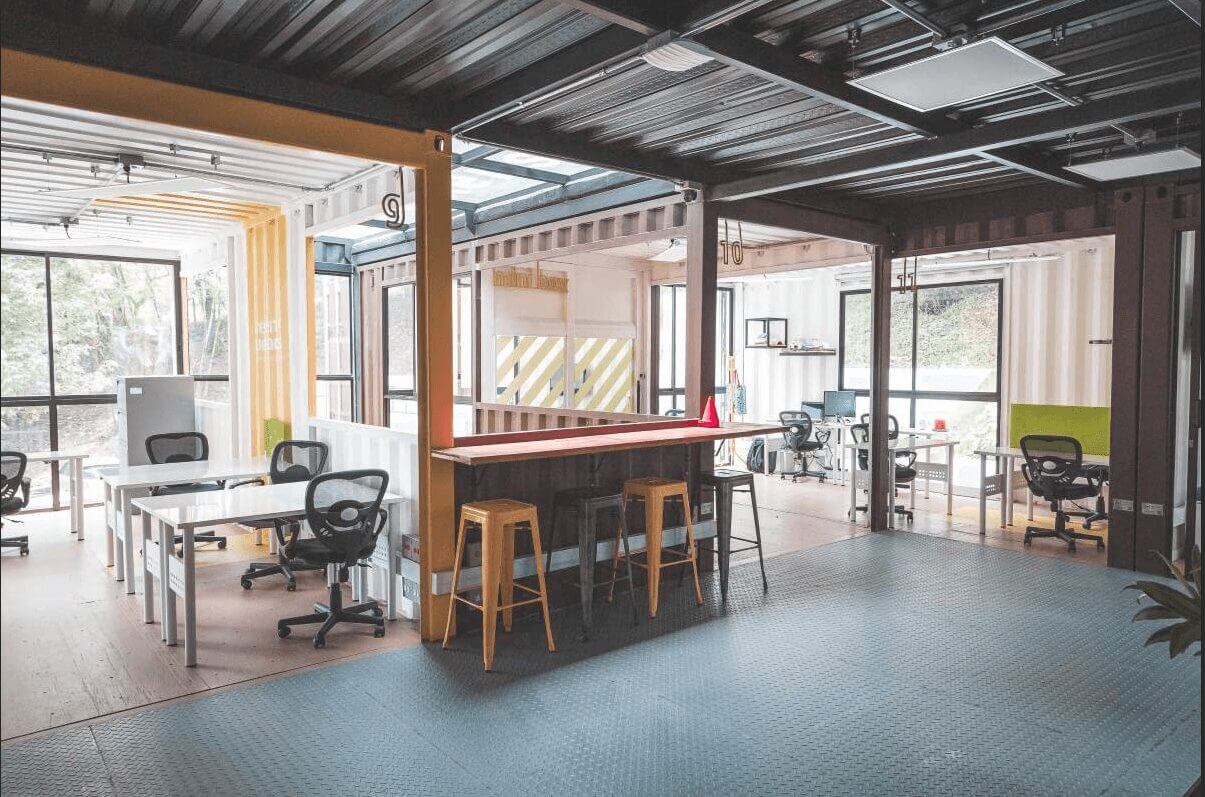 Final Thoughts
You have a chance to enjoy all the benefits of shipping container as a workspace right now! Pelican Containers offer a huge selection of new and used shipping containers for any of your needs. We have containers of various sizes that we can modify to fit your requirements. Just contact us, and we will be happy to advise you on all questions!
FAQ
Why is it worth creating an office from a shipping container?
The thing is, you get numerous advantages with this solution. It may not be suitable for all companies, but if you are limited in space, cannot allocate a large budget for construction, or need an urgent temporary place to work, this option is a lifesaver.
Can a shipping container be used as a private workspace?
Of course! If you need a place where you can work with your clients undisturbed, a better option than a shipping container is simply impossible to find.https://pelicancontainers.com/wp-admin/post-new.php#
Is a shipping container a mobile workspace?
This is one of the main advantages of using a shipping container as an office. You can transport it on a truck to another place at any time. Using a container to create a showroom, office, or temporary shelter for workers is a breeze.